Settle back and relax to the mesmerizing crackle & flicker of the wood wick and masculine natural scents with our Man Candles.
At many of the shows we attend we saw lots of lovely couples browsing our soy candles, and most of the time, the guys looked so bored!
So we got to work blending up some manlier essential oil scents and added in a wooden wick for a finishing touch -- when we saw the guys start to get interested in candles too, we knew we were on to something :)
Now Man Candles are one of our most popular products, and are actually quite popular with the ladies as well!
With unique scents like Cedarwood Tobacco, Spiced Rum & Black Absinthe these are a perfect addition to any bachelor pad, man cave, or any space in your home that could use a little extra character.
Why Man Candles:
Awesome gift for any special guy in your life
One-of-a-kind masculine scent blended with all natural essential oils
Wooden wick for an earthy look and a soothing campfire crackle
Scents:
Cedarwood Tobacco: A masculine, manly blend of crackling Cedarwood, earthy Tobacco, Patchouli and Amber.
Spiced Rum: A sweet & Spicy blend of crushed Clove, Nutmeg, Cardamom with hints of Bay Rum.
Vanilla Bourbon: A sweet and smoky blend of crushed Vanilla and smooth oak Bourbon Whiskey
Black Absinthe: Top aromas of Aniseed, sweet fennel infused with bitter orange for a truly non-hallucinogenic experience!
Woodsmoke & Gin: Woodsy aromas of balsam fir, spruce and pine balance with a hint of mint and eucalyptus accented with sharp juniper berry.
Stats:
50+ hours of luxurious burn time per Man Candle
10 oz of unique masculine scent  
Customer Review:
"The order came quickly and I am very impressed with packing. The scent of the Spiced Rum Candle has not only caught my attention but my hubbys as well! Even my kids have noticed the new candles on the mantle. Bring on Autumn!"
Special Burning Tips For Wood Wick Candles:
We always recommend to ensure that your first burn is always to a full melt pool (wax melted to the edge of the jar)
Always trim your wick! Wood wicks need to be short and level. We recommend using old nail clippers!

Wood wicks burn a bit differently than cotton wicks, so if you're new to these, make sure you check out our post on how to easily keep your wooden wick candle burning nicely here -- don't worry it's nothing complicated :)
You'll love the natural flame & crackle of these wicks!
We ♥ our customers
Customer Reviews
Write a Review
Ask a Question
Excellent high-quality products, surprisingly affordable price!
Beautiful candle, luxurious scent and burning experience. Everyone in the family enjoys this grounding scent in the house helping to unwind after a long day. Looking forward to re-purchasing and trying the other scents.
14 Sep 2022
Maria K.

Canada
A Must Have
The wood wick of the Man Candles makes them a definite must try. Its width melts the wax quickly, so you do not have to wait as long to get a full pool of melted wax, and the novelty of the miniature wood fire burning, on top of your candle, is compelling on a quiet night. I purchased the Vanilla Bourbon scent and, as the name suggests, it is super concentrated with delicious aroma. I can hardly wait to try out my second Man Candle.
19 Jul 2022
Erin M.

Canada
Amazing scents, never overpowering!
This is my second larger order and again I'm not disappointed with the online ordering process, shipping time, careful packaging, and most importantly - the smells!! Still working through my first order and also appreciate how long they burn for. Definitely my go-to candle co!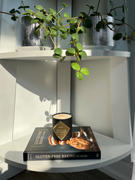 06 Jul 2022
Cheryl R.

Canada
28 Jun 2022
J D.

Canada
Man Candle - Agave Lime
Clean, fresh scent - burns well. Great buy!
16 Jun 2022
Jenn M.

Canada
Man's Candles - Cedarwood and Tobacco
I bought this candle to sit by my hubby's chair, as he has a scent sensitivity i thought he would appreciate the manly scent. He absolutely LOVES it!! I was also hesitant on the wood wick as I have had bad experiences in the past, but this candle lights beautifully, smells amazing and provides a wonderful glow. Definitely going to be a regular purchase!!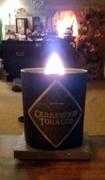 03 Jun 2022
peter o.

Canada
Cedar wood tobacco
This was my first time purchasing the Cedarwood tobacco candle it's wonderful everyone loves it
17 May 2022
Brandon H.

Canada
Almost Excellent
I love these candles. They smell great, and the sound of the crackling flame is their best feature. The only downside to them is that it's extremely difficult to make them stay aflame, and most of the time the flame is very small. Occasionally, I have some luck and it's perfect, and when it is the sound of the crackling flame is even more wicked. I want to give them 5/5 stars because I love everything else about them, but getting the flame to stay lit has been quite tedious.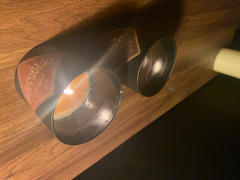 18 Apr 2022
andre f.

Canada
04 Apr 2022
Crystal F.

Canada
29 Mar 2022
Jordan S.

Canada
Vanilla Bourbon and Spiced Rum
Wood wick crackles in the night with a soft flame. Candles burn for a long time and smell great.
15 Mar 2022
Leslie P.

Canada
Man candle
Wonderful!!! Don't get fooled by the name…..girls like them to
08 Mar 2022
Michelle

Canada
Woodsmoke Gin
Loving my candles! The smell is smooth and pleasant. Loving the great customer service as well. Looking forward to receiving my essential oil order.
08 Mar 2022
Sarah S.

Canada
Cedar wood & Tobacco
My Favourite of the manful's. Not overly manly, but warm and spicy.
04 Mar 2022
Linda A.

Canada
Man Candles
I found the scent of Cedarwood/Tobacco very strong and the wick flame was very intense. The other 2 Black Absinthe & Cigar Leaf Brandy are OK I am not a fan of the dark jars, as I like to see the glowing flames as the candle melts.
23 Feb 2022
Lauren O.

Canada
Man Candle - Cigar Leaf and Brandy
I purchased the 'cigar leaf and brandy' mandle for my boyfriend. This candle has a really nice warm spicy scent that is not too overpowering. This candle has a wooden wick that burns well.