Scent Profile:
---
The first product of it's kind in Canada, our Aroma Melts are a customer favorite. Often called wax tarts or wax melts, these are infused with essential oils to give you hours of pleasant (not overpowering) aroma, and are designed for use in a simmer pot or tart melter.
Most wax melts on the market use an icky combination of toxic paraffin wax, synthetic chemical based scents, and plastic packaging (many use all 3!).
But you can breathe easy with our Aroma Melts, made with 100% pure soy wax, natural essential oil scents, and minimal recycled cardboard packaging.
Why Aroma Melts:
The original Canadian made wax melt - (we've been perfecting these recipes for a while now!)

These produce a lovely and subtle aroma without being overpowering or "perfumey"

Natural & eco-friendly alternative to most other melts on the market
 Stats:
6 aroma melts per package

5 oz (weight) of pure, additive-free soy wax

Natural & plant based essential oil scents

Burn time varies depending on your warmer - but you can expect 12+ hours of aroma per melt
Customer Review:
"As a Mom and a pet owner I feel confident in using the soy melts in my home, as they are non-toxic. And as a bonus, the scents that Naturasoy offers smell incredible and make my home feel cozy and welcoming. Try one of their products today! You won't regret it!"
 Burning tips:
Remember that not all of the wax will melt away like a candle - when the scent is gone, it's time for a new melt!

Don't forget to tell your friends about Natura Soy ;)
We ♥ our customers
Customer Reviews
Write a Review
Ask a Question
Spiced Rum melts
Smells incredible and comforting. Thank you for your help in the shop.
23 Jun 2022
Ray

Canada
Lavender and Honey
Such a nice melt scent. So far i've had it on and off for a week now and it's still smelling great. Light scent but enough to create a nice aroma. If you love lavender, you'll really enjoy this one.
26 May 2022
Laura

Canada
Impressive!
I was searching online for companies that have mild and natural scents as this is my first time using a wax melts(I use candles). After reading the reviews, I decided to buy 3. I am really sensitive to strong scents so I was skeptical. I started using them as soon as I got them . The sizing for each block is big and they smell amazing without being overwhelming. 10/10.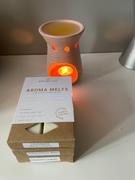 02 May 2022
Kera M.

Canada
Amazing scent
So far, the melts are maintaining their scent very well.
27 Apr 2022
Kellie

Canada