Extinguish candles safely with this old-fashioned essential. The candle snuffers long, slim handle easily reaches into the bottom of candles, and the hinged snuffing cylinder rotates helpfully. The snuffer minimizes smoke when dinner parties or other candlelit occasions come to an end. Pair with one of our wick trimmers to maintain your candles, or give the set as a glamorous yet practical host gift.
Dangling Bell Candle Snuffer
8" long
Snuffing bell dangles in any direction for easy use
Great for snuffing taper candles to prevent wax discharge off tip of candle
Customer Reviews
Write a Review
Ask a Question
Candle Snuffer
Nice modern look and works great.
31 Aug 2022
Maria K.

Canada
Candle Snuffer Review
Although it is practically impossible to choose my favourite Natura Soy product so far, the candle snuffer is certainly in my Top 3 List. I can not imagine a better way to extinguish fine candles, and this one from Natura Soy works beautifully. The snuffer cup pivots with gravity, so you can snuff hard-to-reach flames. Adds a bit of ceremony to ending a candlelight session. All this for an unbelievable price.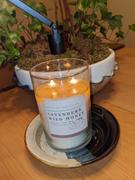 19 Aug 2022
Diane B.

Canada
Snuffer
Works great