Scent Profile:
---
These soy votives are perfect for mood-lighting your space, big or small, and are a customer favorite for events and weddings.
Designed to be used in a tight fitting glass holder, votive candles will give you a long clean burn of up to 20 hours. The warm glow doubles to highlight your container (especially if it's your favorite color).
*Please note that if you are burning your votive in a holder that does not have a snug fit you will reduce the burn-time of the votive.
The subtle essential oil aromas complement the decorative touch to help you set the perfect ambiance for any occasion!
Votives are available unscented too - these are our most popular unscented candle.
Packaged in a set of 6.
Looking for a bigger box - for Votive 18 packs, click here
Customer Reviews
Write a Review
Ask a Question
14 Sep 2021
Lesley W.

Canada
Sea Green & Vetiver
I had no clue what to expect from this scent. Pleased to say it reminds me of winter vacations in the Caribbean. If you've ever appreciated the smell of a woven grass basket, this could be the scent for you. Great quality, even burn.
02 Sep 2021
Stuart S.

Canada
Soy Candles are the BEST !
I bought 4 varieties so far Lilac is my favorite. The smell is subtle, not overpowering (you could consider offering 2 varieties mild scented and stronger scented) I would love to see just plain old lavender added to your offerings, I used to buy McBlooms back in the day they offered votive and just loved the lavender-still miss it- but I have to say, I'll be sticking with your product. You get an "A" from me !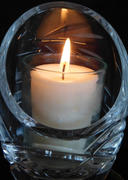 17 Aug 2021
Elena S.

Canada
Fantastic! Shared with my guests.
Absolutely delicate and unobtrusive!!! Charming scents! Long lightening.
09 Jul 2021
Sandra M.

Canada
Votive candles.
I love these candles. They have a lovely aroma and burn slowly. I am very pleased with my order.
06 Jul 2021
Katarina M.

Canada
No packaging, no problem!
The island orchid scent is the absolute best spring scent. I wish it was around all year and I can't wait for the seasonal change sale to buy it in a few pillars! The votives will last me for now though since they are very economical and I love that they are packaging free!