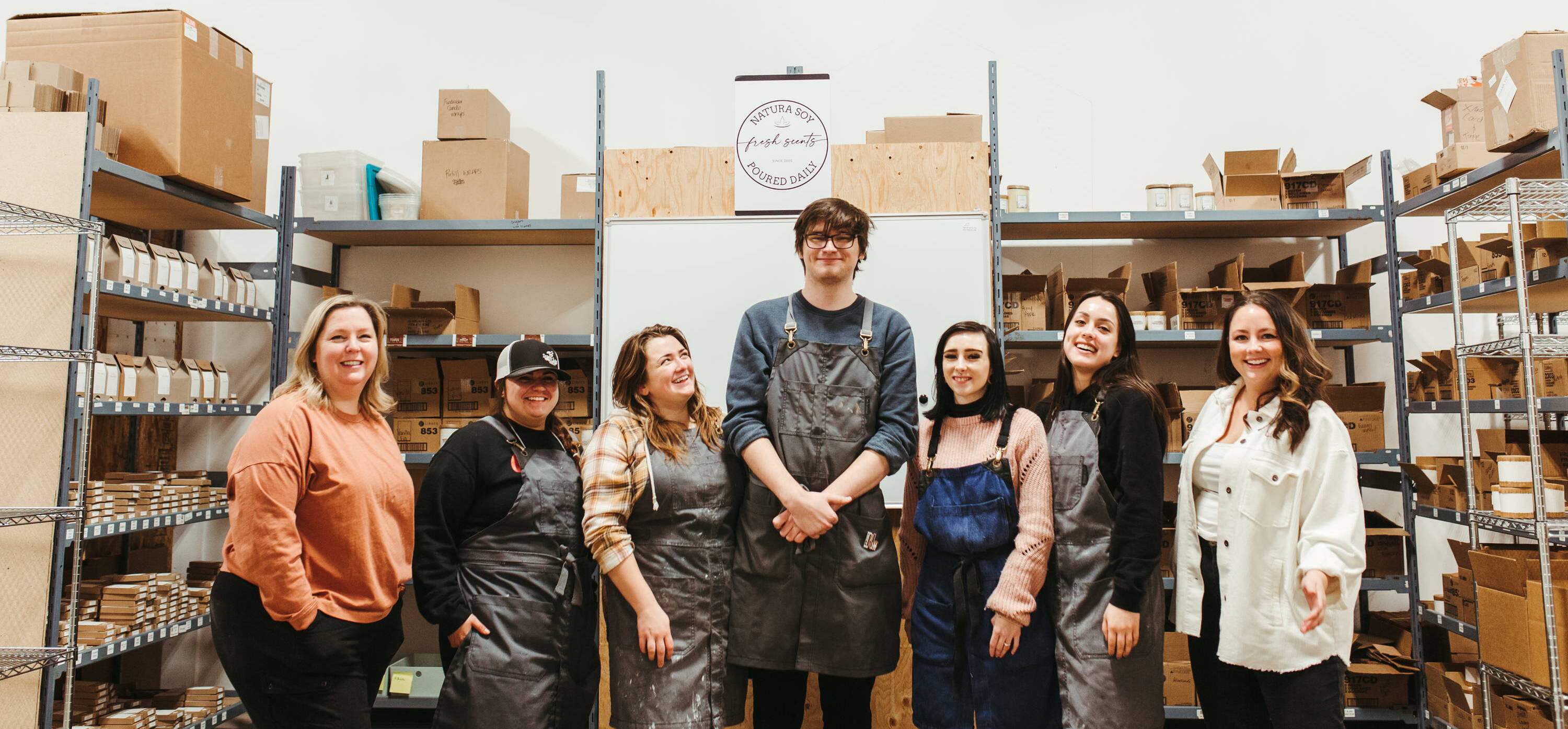 We're Natura Soy, and we create 100% natural, plant-based, & eco-friendly soy candles, that smell absolutely incredible
If you're here reading this, you probably enjoy the warm and relaxing glow of candles as much as we do, but don't want to sacrifice the air you breathe or the health of the environment to make your moments more special.
We couldn't agree more, and our company exists to help people exactly like you.
For over 15 years, our guiding principles have been a responsibility to mother nature, as well as the health & well being of our customers - and over this time we've perfected the art and science of producing naturally-sourced, long-lasting and beautifully-scented candles that you can always feel great about burning.
Read on to learn a bit more about our products, our scents, and our story.
Thanks so much for finding us… you're going to love our candles!


All Natura candles are...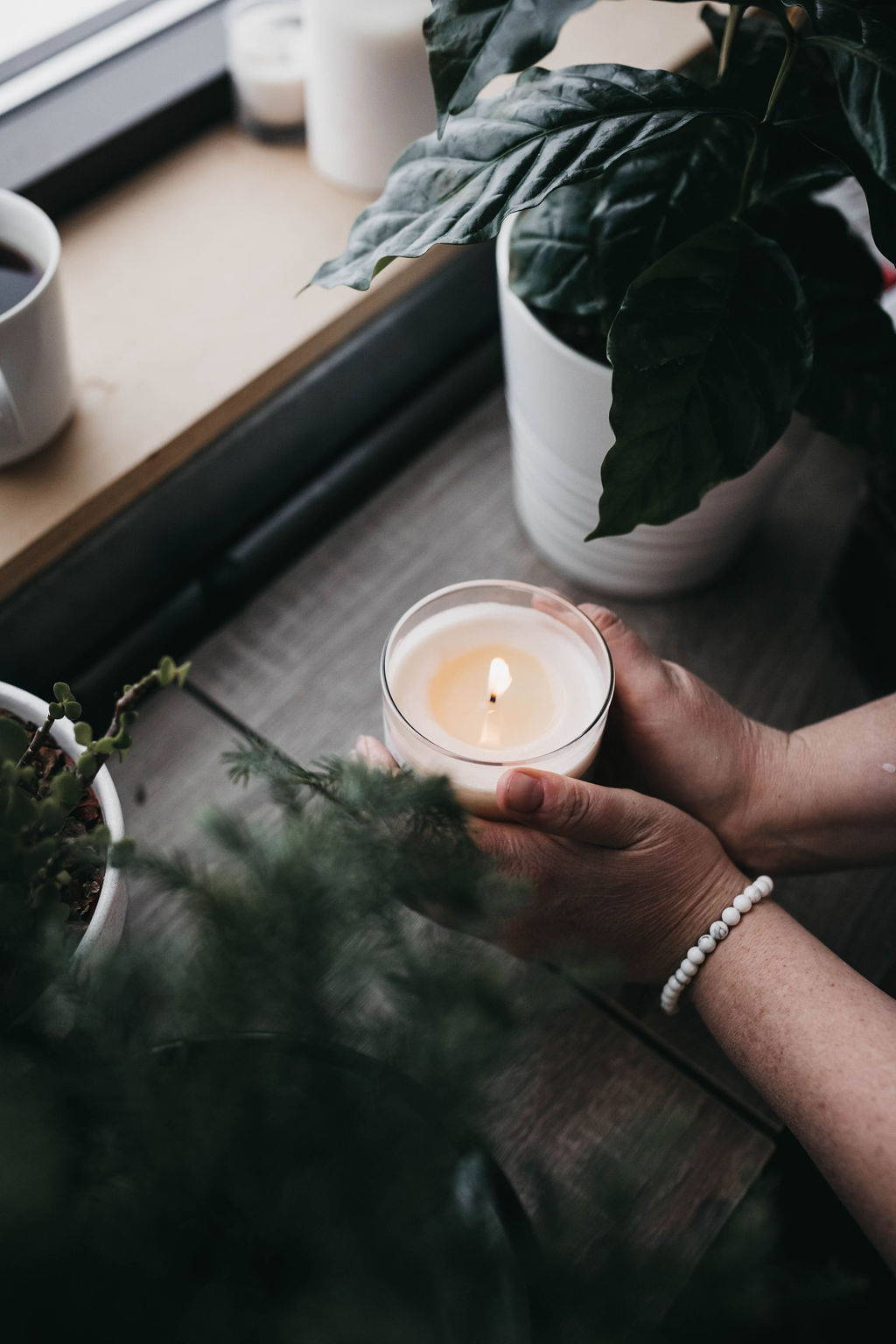 100% natural and plant-based
Our candles are hand-poured with just 3 ingredients: pure soy wax, essential oil scents, and a cotton wick - that's it!


Safe for your home and family (including pets!)
All Natura Soy products are 100% FREE of synthetic chemicals, dyes, paraffin, petroleum, lead, animal products, preservatives, artificial fragrances or anything else icky and harmful!


Blended to give gentle and pleasant aromas without an overpowering or "chemical" smell
Our scents are made with only pure and natural essential oils. No worries about headaches, allergies etc. even if you're sitting close to the candle
Long lasting and clean burning
Soy wax burns nice and slow for hours of enjoyment, and burns very clean with no soot or smoke


Eco Friendly
Soy wax is biodegradable and carbon neutral. Combined with our 100% plant based ingredients and minimal packaging we try our best to keep the environmental footprint to an absolute minimum


Why Soy Wax? Why Natural?
Candles are wonderfully easy way to make any moment warmer, more relaxing & more special - but you shouldn't have to sacrifice the air you breathe for the sake of ambience.
Unfortunately most candles you'll find in stores today are still made from paraffin wax - a petroleum based product that produces fumes and soot containing as many as 11 toxins, including known carcinogens toluene and benzene - yuck!
Realizing how harmful paraffin wax is for both people and the planet can almost ruin the fun of candles forever 😔
And if you appreciate the soothing aromas of a scented candle, it's even worse. With the amount of chemicals and artificial fragrances dumped into them... it's pretty hard to kick your feet up and "relax" knowing that you're breathing all that in!
This is exactly why we started Natura Soy over 15 years ago…
So we could help you relax into the calming glow and gentle aroma of a luxurious candle, with zero worries about harming your health or the environment :)
After all, candles are supposed to help us let go of our troubles, not add more!
The Benefits Of Soy - Candle Making That Truly Takes the All Natural Approach
All our candles are made from pure soy wax – a natural vegetable oil derived from soybeans.
Soy wax is an eco friendly alternative to paraffin as it's a natural & fully renewable resource that's carbon neutral, mostly solar powered, and produces as much as 90 percent less soot than typical candles.
And unlike paraffin wax, soy wax burns extremely cool, clean, and does NOT emit unhealthy fumes and known carcinogens into your home.
Soy candles last a long time too, which is a nice bonus! 👍
Why Essential Oil Scents?
For natural and healthy scents we're committed to using 100% pure essential oil blends - you will never find artificial or chemical fragrances in our products.
Avoiding the long list of potentially toxic chemicals found in many scented candles is important to us and our customers - but we find essential oil blends to actually smell so much better as well.
Many of us can't stand the overpowering, headache inducing synthetic fragrances that you'll find in not just paraffin candles but, often in soy candles too.
So, the big secret to our candles smelling so beautifully natural is, simply, because they are natural!
The result for you are some of the most incredibly subtle, pleasant, and soul-tickling aromas on the market today.
What Makes Natura Soy Special?
You'll find our scents to be one of a kind, and absolutely sublime
If you ask our customers why they love Natura candles, most will tell you the scents are what truly set our products apart.
The olfactory sense (smell) is such a powerful system for us humans, and fragrances can have a huge impact on our emotional and mental state.
Though it's not always in the front of our consciousness, the scent of our environment can trigger our oldest and most cherished memories, make us feel comfortable and safe, or even help us fall in love!
So yeah… Scent is kind of a big deal. And after many years of seeing firsthand the positive effects that different aromas can have on people, we take this very seriously!
Our passionate team brings many years of experience to the art of handcrafting beautiful candles - and you will notice the difference in quality
Using both essential oils and soy wax together can be extremely tricky to get right. There is so much that goes into the process, and many pitfalls that we've had to learn the hard way.
But through a decade and a half of trial and error, and lots of feedback from our incredible community of candle lovers from all over Canada, and the world - we've truly mastered the craft.
We've also been lucky enough to have a close partnership with a world class perfumist that has been producing natural plant based fragrances for over 100 years!
Combined with our experience, we're able to bring you what we're pretty sure are the absolute best all natural and artisan soy candles available.
A commitment to using 100% naturally sourced, plant based products - safe for people, pets and mother nature
We take great pride in being an environmentally and socially conscious company.
When it comes to sourcing our ingredients to produce the most eco-friendly candles, we're committed to using:
Only the highest quality soy wax from 100% pure soybeans
Premium essential oils without any added fillers
Lead-free wicks made from paper or cotton
Minimal packaging, (it's what's inside that counts, right?)
All North American sourced materials free of pesticides and herbicides
Absolutely no paraffin, petroleum, palm or other harmful additives
Absolutely no animal testing (except for when our dogs sneakily lick up a sample here and there)
Every little eco-conscious change we decide to make contributes to a bigger difference, and if we can accomplish that with great products that really capture the senses, then it's positively worth it!
We even encourage you to reuse the jars and save a few dollars through our refill program.
North American Sourced - Hand Poured In Canada
Many of our customers like to support a Canadian company - and through our operation in Okotoks, Alberta we're proud to be able to support the local economy and deliver our fellow Canadians a product made right here at home!
How we went from making a mess in the kitchen to one of Canada's leading and longest-running soy candle makers
Natura Soy was born around 2004 - when Colleen DeSantis, a passionate supporter of the environment and lover of all things natural, went searching for a healthier and more eco-friendly alternative to paraffin wax candles.
She soon discovered the many advantages of soy wax, but finding high-quality soy candles was not easy in Canada at this time, especially if you were looking for nice scents. So Colleen set out start making her own.
How hard could it be, right?
** Queue the video montage of sloppily boiling wax over the kitchen stove, minor explosions, and tossing out dozens of batches of "candles" that looked like some kind of strange sci-fi goop and smelled similar… The learning curve was steep and this phase lasted a long time.
Turns out, creating truly high quality candles with fully natural and plant-based ingredients was no easy task. Especially ones that smell great.
But… through a lot of trial and error, perseverance, and relearning long forgotten nuances of chemistry, things gradually started to come together.
Over the years we've grown considerably, opening our own shop in Okotoks, and expanding our passionate team - all while remaining 100% committed to the principles of environmental and health consciousness that got us started on this journey in the first place.
We're delighted to be able to serve our customers, and hopefully make the world a little warmer place.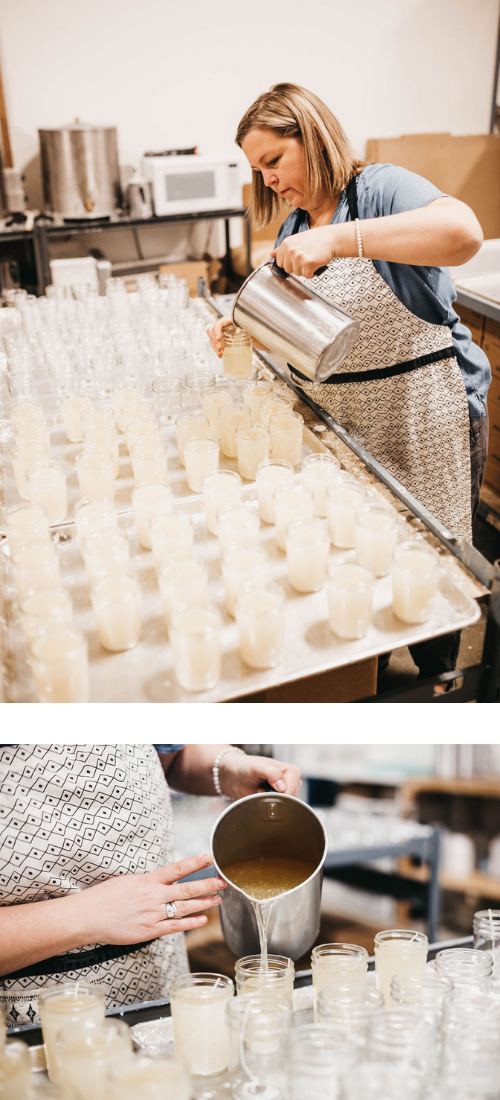 Some Frequently Asked Questions
Are your candles really all natural?
Yep! Natura Soylights products are not only all-natural but 100% plant-based as well.
You can truly relax into the moment knowing that your candles are handmade with just 3 ingredients: pure soy wax, essential oils, and a cotton wick.
A commitment to non-toxic, sustainable, & plant-based ingredients keep all Natura Soy products 100% FREE of:
Synthetic chemicals

Dyes

Parrafin

Petroleum,

Lead

Animal products

Palm oil

Preservatives

Artificial fragrances

or anything else icky and harmful!
Are these safe for my pets?
Short answer:
Yes! Given the ingredients, there should be nothing harmful for your pets in our candles.

Longer answer:

Our customers have been burning our plant based candles for over a decade and a half and we've never heard a single story of a pet having any problems with them.

Some animals (and their owners) can be super sensitive to smells, but our gentle and non-irritating natural scents are why many people choose Natura Soy - so this shouldn't be an issue.

That said, we don't test on animals and never would, so we are not going to say that it's impossible there could be a problem if your dog eats a half kilo of candle wax!

Of course, these aren't meant for eating, and if your pup wants to chew on anything in sight that smells interesting - just use common sense and keep them out of reach :)

Anecdotally, our dogs have a habit of sneaking a few licks of soy wax when we're not looking... and they are still looking pretty good!
I am sensitive to strong smells… will your candles give me headaches?
Very unlikely!
Our essential oil fragrance blends are much gentler than chemical perfumes, and crafting luscious and gentle aromas that don't overwhelm is what we do best.

Many of our most loyal and happy customers are those who just can't handle strong chemical fragrances - and they have fallen in love with our candles!
Have a look at the reviews on our site and you'll see lots of comments like these which mention the gentle scent profile:
We also have some unscented candles here.
How long do your candles last?
You will find that well made soy candles burn very clean and slow, giving you many hours of relaxation and ambience.
We've got a nice variety of sizes and styles for you to choose from - something for every occasion.

Here are the approximate burn times for some of our most popular candles:

Pillar Jar - 125+ hrs
Tumbler Jar - 65+ hrs
Man Candle - 55+ hrs
Massage Tin - 45+ hrs
Marketplace Jar 45+ hrs
Votives - 18+ hrs.
Aromatherapy Jars - 18+ hrs
Tealights - 5+ hrs

All candle volumes and average burn times can be found in our product descriptions. Burn times are based on proper candle care and maintenance.
Can these candles be used for massage?
Yes!
One of the great things about soy wax is it's relatively low melting temperature -- meaning after just a few seconds of cooling, you can comfortably drip the liquid wax on your skin.

We have a special line of Massage Candles just for this purpose, made with a special blend of skin-nourishing oils including Shea, Hemp, Vitamin E, and Pure Essential Oils.
The gentle heat helps these healing and moisturizing oils penetrate deeper into your skin for a greater effect - This turns burning a candle into a beautiful, multi-stage experience - one that your body will thank you for.
Can I use your candles in a wax warmer?
Well we wouldn't recommend putting our candles in there, but we've got you covered with our Aroma Melts.
Often called "wax tarts" or "wax melts" these are a lovely and efficient way of filling your space with a lovely aroma.
Our melts are available in a wide variety of scents, and will give you hours of burn time. Aroma Melts are actually our bestselling product - give them a try and you will see why!
Help me choose a scent! Which scents are the most popular?
Ahh yes, the age old dilemma... which scent to choose!
Here are some customer favorites:

Raspberry Grapefruit
Vanilla Fig
Sage Berry
Eucalyptus Mist
Lavender Dream
Bohemia
London Fog
​Vanilla Maple

You can't really go wrong with any of those!

For an easy way to test out a variety of scents, check out our Tealight Sampler Set here.

See all our scent descriptions here
Can I buy your candles in my area?
Probably!

Our candles are stocked in many stores across Canada.
You can see all our retail partners here

Also, if you live near our home base in Okotoks, Alberta stop in and visit us at our new production studio!

It is a great way to smell it all and find your favorite new scent - and we'd love to see you :)
How long until I receive my order?
We know you are excited to experience the warm glow of your new candles - so we make every effort to get them to you as quickly as possible :)

Please just allow us 1 or 2 days for order processing and your products will be heading your way! We're usually pretty speedy.

Remember all orders over $65 ship free anywhere in Canada.

For more info on shipping times see our FAQ (link below)
---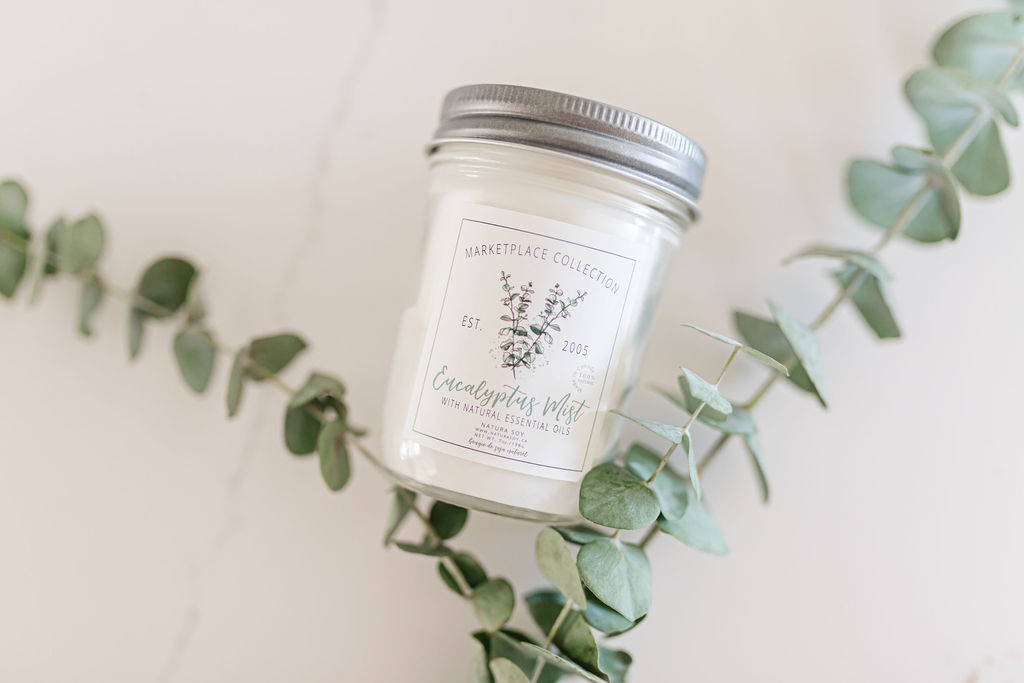 Still have a question?
Please check out the full FAQ page here
Beyond that, the best way to get in touch is through our contact page, Facebook, and you can always email us here --> care@naturasoy.ca
We are often busy whipping up the next batch of candles, but we will do our best to get back to you as soon as we can!