Experience love at first light with this exclusive limited collection.
We've poured this small batch of candles, with details like soft floral paper labels, cork lids, cotton-wood wicks and a round bottomed jar.
These 10 oz jars will give you about 65+ hours of beautiful burn time!
About the Scent -->
Sweet Mint & Cacao: Fresh, herbal notes of sweet mint blended with a creamy base of sandalwood and tonka bean for a rich, subtle take on the classic mint + cacao combination.
Customer Reviews
Write a Review
Ask a Question
Sweet mint and cacao smells amazing. I haven't lit this one yet but I have a lot of their other candles and they burn beautifully. It's a beautiful looking candle. I love the black label and cork lid. Needless to say I'm a huge Natura Soy fan!
09 Aug 2022
April B.

Canada
Love the sweet mint and cacao!
It reminds me of chocolate mint chip ice cream :)
26 Jul 2022
susan b.

Canada
19 Jul 2022
Janelle P.

Canada
A really lovely experience
This candle is amazing! It smells just like mint and chocolate, which I love. The jar itself is beautiful and so is the label. And I really love the cork cover, it adds a little something extra. It's very beautiful when lit, I use it while I'm working at my desk to create a calming atmosphere. I love it!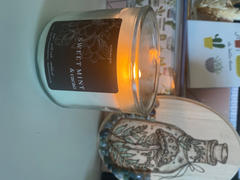 13 Jul 2022
Jeanne M.

Canada
Sweet Mint and Cacao
This was a first for me and absolutely love the scent. The jar is a lovely green glass and just makes it a nice addition for the room. Good Choice.
19 Jun 2022
Lyndsey Z.

Canada
18 Jun 2022
Leanne N.

Canada
Sweet mint and cacao
Amazing as always! This light scent is so nice, one of my favourite and I have so many from Naturasoy
05 May 2022
Sally R.

Canada
Cocoa Mint
Love all your candles
20 Apr 2022
Francine A.

Canada
Great candle!
Love this candle! Smells just like an "After Eight" chocolate mint candy. Has a great scent throw, but is not overpowering. Can't wait to order more candles from this company!
23 Mar 2022
Stephanie A.

Canada
08 Mar 2022
Sarah S.

Canada
Strong & Sensual
This scent is one of the only foody scents that I like. It is very sensual and has a great scent throw.