These soy votives are perfect for mood-lighting your space, big or small, and are a customer favorite for events and weddings.
Designed to be used in a glass holder, votive candles will give you a long clean burn and the warm glow doubles to highlight your container (especially if it's your favorite color).
The subtle essential oil aromas complement the decorative touch to help you set the perfect ambiance for any occasion!
Packaged in a set of 6.
Customer Reviews
Write a Review
Ask a Question
20 Sep 2021
Kyla J.

Canada
Absolutely soy-licious!
Scent intensity is absolutely perfect. So many varieties to choose from over the seasons. Burns a little fast and slightly shorter than I'd like. But overall, love supporting this business, I make several purchases every year especially now since working from home. We have a small space and the scent fills our small space beautifully.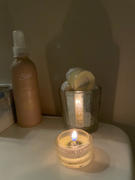 17 Sep 2021
Linda K.

Canada
Love these votives!!
I like the variety of scents & enjoy them all. The votives burn so well!
12 Sep 2021
Dawn C.

Canada
Lovely smell
I like the votives for my small glass candle holders. The scent, lemon mojito, is really lovely.
10 Sep 2021
Sherri T.

Canada
Love my soy
Fantastic as always ❤️
06 Sep 2021
Barb H.

Canada
Love the candles!!
Love the scents! Love the way they burn so clean and the soy wax burns totally away leaving a clean holder