A must have for candle lovers! This trimmer features a unique tray that catches wick trimmings. No more soot on your fingers trying to pinch off burnt wicks.
The sharp blade makes a precise cut on the candle wick allowing for the best burn possible!
For maximum performance, trim your candle wick to 1/4 inch each time before lighting. Made of 100% stainless steel.
Customer Reviews
Write a Review
Ask a Question
29 Jan 2023
Robin M.

Canada
Handy tool
I'm finally able to trim perfectly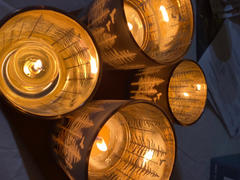 23 Jan 2023
Kathy C.

Canada
Fun new toy!
I absolutely LOVE this rose gold wick trimmer! Beautiful colour. Using it for the 1st time, it kinda reminded me of cutting my toenails :) One effective quick snip, and my fingers don't get all sooty anymore & they don't have to overstretch to try to reach the bottom of the candle holder either. I used to think that a wick trimmer was an unnecessary expense, but now it is a very satisfying toy…which other candles around here need some trimming :)
27 Nov 2022
Jess D.

Canada
takes some getting used to
I find the wick trimmer a little tricky to use -- I really have to push the wick to the end of the opening, otherwise it doesn't cut. Also, it doesn't work on a new candle (i.e. a wick that is unburned), which I thought it would -- it just bent the wick and I had to go in with scissors (not a big deal). I do like the angle of the trimmer (easy to access the wick). Overall, I'm satisfied with my purchase and happy with Natura Soy customer service!