---
This bulk pack of 25 unscented Tealights is perfect for events, parties, spas & candlelight connoisseurs.
Each clean burning tealight will give you 6 hours or more of burn time, and unlike other tea light candles which come in metal molds, ours won't get hot to the touch. (Ours come in plastic cups which you can handle easily without getting burned! Of course these are also recyclable and flame resistant)
A great choice of you want to light up a space without any aroma.
For bulk packs of essential oil scented tealights click here
Why Unscented Tealights Bulk Pack:
Bulk pricing - excellent value for this healthy & eco-friendly candle!
Great for events & businesses
Minimal, convenient packaging
Unscented - if you just want to enjoy the warm glow
Stats:
25 unscented Tealights per bag
6 hours of clean & luxurious burn time per Tealight
Customer Review:
"If you have smell sensitive people in your house theses tea lights are perfect. They burn for a long time and they burn clean."
Burning Tips:
Please remember to recycle your Tealights container after enjoying!
We ♥ our customers
Customer Reviews
Write a Review
Ask a Question
So happy to find unscented, non-toxic candles!
I love these, they burn so nicely. I'm allergic to fragrance so I love that they have an unscented version. Beautiful also! Will buy again!
18 May 2022
Melissa N.

Canada
Clean, delightful Tealights
I love these candles as they are clean-burning. They go perfectly with my oil burner and they last for HOURS! I love these!
11 May 2022
Laura-Lynn m.

Canada
Never buy candles anywhere else!!
I have been a loyal customer with NaturaSoya for several years now. They never disappoint!! I am constantly trying out new scents and sizes and they are all amazing. Long lasting and smell so natural. Everyone always compliments the way my apartment smells because of these candles.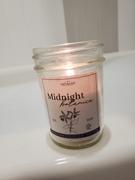 26 Apr 2022
Margie E.

Canada
Natura Soy Tealites
These tealites are my favourite. They burn for quite a long time and evenly too. Having a candle burning relaxes me as I watch it flicker and cast reflections on surfaces in our home. Purchasing candles from a Canadian company is important to me. Entrepreneurs take great risk to make a go of their business venture and I admire their courage and work ethic. We are so lucky to have Natura Soy right here in Alberta!
13 Apr 2022
Darleane J.

Canada
Yea lights
I love these tealights! They burn nicely alongside my scented ones. I love the pretty flame
17 Mar 2022
Robin J.

Canada
Good value quality tealights
These teaights burn nicely and the clear cups look nice in glass holders. Unscented is perfect for the dinner table when you don't want scent interfering with food smells.
29 Jan 2022
Sara M.

Canada
So happy to have found soy tealights
Thrilled to be able to burn tealights and know that they are not harming me. Love that they are recyclable as well. Great product.
26 Jan 2022
Tania S.

Canada
No scents which I what I wanted
All great. No smells. Perfect.
01 Dec 2021
Barbara L.

Canada
Wonderful as ever
Love the unscented tealights. Burn them every night. They burn clean and last a long time. Will continue to buy in bulk!
11 Nov 2021
Suzanne S.

Canada
Clean, bright light.
I love these long-lasting, non-scented candles.
20 Oct 2021
Kerri E.

Canada
Great little tealites
Long-lasting, clean burning scentless candles. I've a sensitive nose so when I want a bunch of candles going I'll use 1 scented one, and unscented for the rest. Perfect balance scent vs. ambience and good value when buying larger quantities.
04 Sep 2021
Helen B.

Canada
Beautiful, natural scents
These candles are absolutely lovely, they burn well with wonderful, natural scents unlike some over -the-top artificial scent. I am happy to support a local business in Canada. I am looking forward to another order!
10 Aug 2021
Barbara C.

Canada
unscented tealights
I love these tealights! Sometimes you want an unscented candle, especially at the dining room table for an elegant meal, so the aroma of your meal is not over-shadowed by a strong candle scent. The plastic cups are great. I am not a big fan of foil cups. I absolutely recommend these tealights.
02 Aug 2021
Avantika M.

Canada
The best candles I've ever bought
I don't think I can buy any other candles after trying these. Love the way they burn, love how they smell (so beautifully fragrant but not overpowering) and love the ambience they create.
11 Jun 2021
Billie J.

Canada
Clean burning
The tea lights are lovely. They burn clean and they don't get as hot.
08 Jun 2021
Pamela M.

Canada
Fabulous!
I use these candles in my oil diffuser. They burn well and aren't full of nasty ingredients. I like that :)