Scent Profile:
---
These soy votives are perfect for mood-lighting your space, big or small, and are a customer favorite for events and weddings.
Designed to be used in a tight fitting glass holder, votive candles will give you a long clean burn of up to 20 hours. The warm glow doubles to highlight your container (especially if it's your favorite color).
*Please note that if you are burning your votive in a holder that does not have a snug fit you will reduce the burn-time of the votive.
Packaged in a box of 18.
Looking for a smaller box? For Votive 6 packs, click here
Customer Reviews
Write a Review
Ask a Question
24 Jul 2022
Sylvia F.

Canada
A Bit of A Disappointment
I love that they're soy, and handmade ... but don't like that they burn rather unevenly. A simple remedy would be to use the correct size wick. Was a bit surprised, in fact, that for this price there wasn't more attention paid to such a small, but crucial detail.
09 Aug 2022
Natura Soylights
Hello Sylvia, thank you so much for this feedback! We are a small company that is constantly trying to perfect our products, so every bit of feedback is very appreciated. We will look into this on our end to ensure the quality of the votives. I would also recommend trimming your wick prior to using and further, ensuring that the votive is burning in a tight-fitting container to ensure peak performance. If you have any other questions or concerns about our products please do not hesitate to reach out at any time. -Taylor
14 Jul 2022
Lauren R.

Canada
So wonderful
These are the best votives that I have ever used. They are a great size and burn so beautifully! I got the unscented to go in some lanterns.
28 Jun 2022
Karen C.

Canada
Votive candles
I loved the smell! Burned quicker than the time they stated. They burn for around 1/2 that time.
16 Jun 2022
Deborah H.

Canada
Love my candles!!
The scents are always so beautiful!
13 May 2022
Renee L.

Canada
Great candles, great service!
If you like scented candles, this company uses essential oils. I personally prefer unscented. Fast and friendly service. Great quality candles… the votive candles last at least 7 hours.
21 Apr 2022
Tonya K.

Canada
Love these / love the environment
I just moved from the US and am so thankful to find NaturaSoy Candles because they do votives and refills. I always want to use non-retro candles for my home health, but want to use votives for the environment's health (votive sizing is standard and I don't have to buy glass jar after glass jar when I can just refill the ones I have). These votives are wonderfully sized and burn bright and strong. I really appreciate the unscented option, too. Thank you! I'll be looking into the tumbler refills too, so for the future I can have TWO sizes of refillable candles I can depend on. Thank you!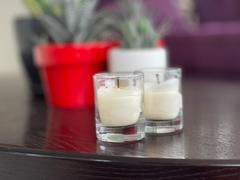 19 Apr 2022
Dianna L.

Canada
Love these candles!
Burned evenly and slowly, appreciated the no scent.
12 Apr 2022
Kyla J.

Canada
Adore, adore, adore Natura Soy!
I can't help myself, these candles are now a staple in my home. Absolutely delightful!
21 Feb 2022
Sandra I.

Canada
Order by the Bundle
Awesome scent, very quick delivery and great value by the bundle!
20 Dec 2021
Darleane J.

Canada
Votives
Beautiful scent and burns clean
16 Dec 2021
Caitlin H.

Canada
Nice Scent
These candles burn well and I like the scent because it is not overpowering in my small space.
10 Dec 2021
Janet B.

Canada
Candles
This candles are great. Burn clean. Smell great
03 Dec 2021
Andrea C.

Canada
Smallish big
Great. Just the right size
25 Nov 2021
Brenda A.

Canada
Love the votives
Excellent burn time and burn completely
17 Nov 2021
Jennifer M.

Canada
Maple Latte
Great smell, they do not last as long as I had hoped.