***Please note that due to supply issues, our tumbler jars are only available in white. This is a temporary change and we anticipate having our clear glass jars return in November 2020.

Tumbler Jars are one of our longest-lasting candles, and will give you plenty of time to enjoy the gentle scents drifting from room to room in your home.
For comparison, these are a bit larger than the Marketplace jars, and smaller than the Pillar Jars.
One of the great things about soy candles is that when you finish them, there is almost no wax left in the jar. 
That makes it easy to re-use the jars as quality drinking glasses (these candle containers are actually whiskey tumblers!).
As always… only all-natural goodness in these Tumbler Jars: pure soy wax, 100% cotton wicks, plant based essential oils - burning these candles feels like giving mother Earth a big hug :)
Why Tumbler Jar:
One of our longest burning candles
"Happy medium" size between the Marketplace Jars and Pillar Jars
You get a high quality drinking glass when you're done enjoying your luxurious soy candle!
Stats:
10 oz of sun, earth, & rain produced pure soy wax
65+ hour burn time
Customer Review:
"Wow! Can't say enough about these Tumbler Jar Candles. Love the light scents of each one I received, the packaging was so nice too. I love that they're natural and made with plant based products. What more could you ask for. Also love supporting a Canadian Company. ❤️"
Burning tips:
Give your new Tumbler Jar candle a good 3 hours or more to burn the first time, until the wax is pooled to the edge of the jar
Enjoy your favorite chilled drink out of this nice tumbler glass when you're done, and remember the good times :)
We ♥ our customers
Customer Reviews
Write a Review
Ask a Question
Awesome products!
I love these candles! I have tried the London fog, honey apple cider and vanilla maple latte scents. I received my order last week and have already placed another one for Christmas gifts!
Beautiful candle!
Handcrafted warm and delightful candle!
Best candles
A friend told me about these candles. I am very sensitive to smells and often get headaches from synthetic candles. I didn't react to these. The only thing I didn't like about the order was I got two clear ones and one white tumbler. I wanted them all to match and all pictures suggested clear glass.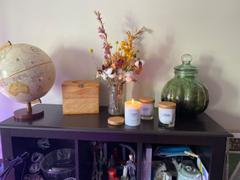 10/20/2020
Natura Soylights
Hi D. ! Thanks for trying our candles and happy to hear you didn't have any reaction to these. Many of our customers (us too) also dislike overpowering and "perfumey" scents - that's why Natura candles exist, to give people and option for gentle and natural aromas. So sorry about the jars -- our supplier for Tumblers actually went out of business - so all we're able to get right now are the white ones. We're working on sorting this out and getting clear ones again asap! Thanks for being a customer
Burn long and evenly!
These Candles are so good. I light them everyday. Give the place an amazing smell and they burn so evenly. And the scent descriptions are pretty bang on to the smell when lit.
Awesome!
They are long lasting, and burn so evenly that the glass tumbler is clean when finished. Love that they have clean ingredients, and the scents aren't overpowering but noticeable. They are my favourite candles, and I love that they offer the refills! Well done Natura Soy!
10/15/2020
Natura Soylights
Thank you for the kind words, and thanks for being a customer! So happy you're enjoying our candles ❤️